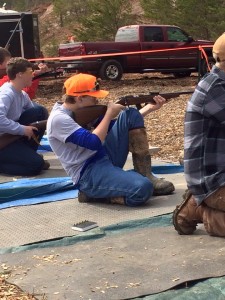 A non-traditional after-school activity is gaining popularity among Haywood County Schools students. More than 100 students are participating in Sportman's Clubs in five schools across the county.
The Sportsman's Clubs in Haywood County Schools introduce school-age youths to archery, orienteering, rifle and shotgun shooting. Currently, Canton Middle School, Bethel Middle School, Waynesville Middle School, Tuscola High School, and Pisgah High School each have active Sportsman's Clubs.
Sportsman's Club is focused on providing, promoting, and perpetuating opportunities for students to safely and enjoyably participate in archery, rifle, and clay target shooting. The clubs are designed to instill in students the importance of responsibility, sportsmanship, self-discipline and personal commitment.
David Franklin has been coaching the Sportsman's Clubs at Pisgah High School and Canton Middle School for the past seven years. He got involved in the club when his oldest son was a student at Canton Middle.
"The kids in our club are from a diverse background. We've got football players, band members, and everyone in between," Franklin said. "Hunting is such a big part of our local culture, and the Sportsman's Club is a way to bring all those students together to participate in something."
Safety is incorporated into every facet of shooting. To participate in Sportsman's Club, students must take and pass the N.C. Hunter Safety Class where they learn the safe and responsible handling and use of firearms. All of the coaches for Sportsman's Club are Certified Range Safety Officers and are present at all club practices.
During practice, students discover the joy of contributing to a shared team goal and the commitment that goes along with training for a competition.
"The students have to try out to make the different teams," Franklin explained. "Just like a lot of other extra-curricular activities, they have to work hard at practice and go home and train to make the competitive teams."
Each school's Sportsman's Club begins practicing in the fall of each school year. By January, the coaches begin to assemble five-person teams for competitions. Thirty-two teams, from across Western North Carolina, including several from Haywood County, will compete at a regional competition in Polk County on March 19. The teams winning first and second place in each category will earn a spot in the state competition in Ellerbe, N.C. in April.
In the last four years, Pisgah and Canton Middle have won two archery team state championships and two individual archery state championships. Franklin expects several of Haywood County's teams to once again compete in the state championship.
To raise money for the club's equipment, the Sportsman's Clubs from Haywood County Schools will be hosting a Blue Ridge Friends of the NRA Banquet on Saturday, April 9 at 6 p.m. at Laurel Ridge Country Club. Tickets can be purchased from any of the Sportsman's Club coaches or from Waynesville Police Chief Bill Hollingsed.