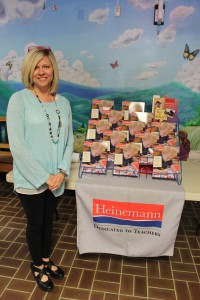 Jonathan Valley Elementary School recognized kindergarten teacher Lisa Cleaveland with an assembly to celebrate her second published book, More About the Authors, on April 11. Current and former students, as well as colleagues and community members attended the event.
"Ms. Cleaveland's passion for teaching shows, and she truly cares about each one of her students," Jonathan Valley Principal Heather Hollingsworth said to the crowd. "She empowers her students and encourages them to achieve their dreams."
After the assembly, students celebrated Cleaveland's achievement with an outdoor ice cream party.
"Ms. Cleaveland was a really fun teacher, and I remember learning to write when I was in her kindergarten class," third grader Myleigh Noland said. "I'm really excited that she had a book published."
More About the Authors explains how kindergarten through second grade teachers can help their students discover mentor authors, connect writers to curriculum, plan units of study, and show how students can mentor one another.
"My hope is that this book will help teachers see how shifting their thinking about mentors can make a huge difference in teaching," Cleaveland said. "Books don't make themselves – authors and illustrators do, and my students know this because they make books too."
Cleaveland illustrates the effectiveness of this approach in her book with full-color examples of her Jonathan Valley students' work, as well as transcripts of a question-and-answer session between her students and famed children's author and illustrator Marla Frazee. The book also features many pictures of her current and former students over the past six years.
Cleaveland's writing lessons are not only about learning an author's writing style, her students also analyze the book dedication and read the biographies of the author and illustrator.
"There is a real person behind every piece of children's literature. I use that real person who created the children's book to mentor the writers and illustrators in my classroom," Cleaveland explained. "I want students to view themselves as authors and illustrators too."
Every morning at exactly 9 a.m., students in Cleaveland's class take out stapled paper, pencils, crayons, colored pencils, and markers, and begin writing a book. Cleaveland says she firmly believes in nurturing a love for writing early on in a child's education. For a solid hour, her kindergarten students write uninterrupted.
"Children start writing by marks and scribbles at a very young age, and over time, they grow as writers and illustrators," Cleaveland explained. "In today's world, students need to understand that there is much more to writing than text messages and posts on Facebook. They can have an unlimited amount of characters while composing books in writing workshop."
In accordance with N.C. Common Core Standards, elementary-age students must demonstrate increasing sophistication in all aspects of language use, from vocabulary and syntax to the development and organization of ideas, and they should address increasingly demanding content and sources.
Kindergarten students are expected to study and write the same types of writing as older students, including informational/nonfiction, narrative, and opinion.
Cleaveland believes writing is a life skill and part of her job as a teacher is to show students how to express themselves through writing.
"If you don't allow children to write every day, then they may never reach their potential as writers," Cleaveland said. "In my classroom, students make books just like the ones we read during story time."
More About the Authors is a follow-up to the 2004 book About the Authors, Writing Workshop with our Youngest Writers that Cleaveland co-authored with Dr. Katie Wood Ray, who was also the editor for her current book.
"Katie and I have studied the development of beginning writers for 16 years. With our years of collaboration, Katie knew my teaching methods, my practices and my teaching philosophy," Cleaveland said.  "She was a huge encouragement to me and helped me take on the task of writing a book while being a wife, mother, and teacher."
Cleaveland has been a teacher for 25 years and has taught at Jonathan Valley Elementary School for 18 years. She is currently working on completing her National Board Certification.
More About the Authors is published by Heinemann, the country's leading publisher of professional books and curriculum resources for children. It is available for purchase on the Heinemann website, Amazon, and Barnes & Noble.