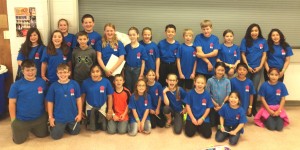 Four Haywood County elementary schools took top honors at the regional Science Olympiad competition on April 16.
A total of 10 teams from seven elementary schools across the area competed at the event at Owen High School in Black Mountain, N.C.
School Winners, Varsity:
First: Bethel Elementary School
Second: North Canton Elementary School
Third: Clyde Elementary School
Fourth: Central Elementary School
Fifth: Fletcher Elementary School
Sixth: Angelus Homeschool Fellowship
Seventh: Bruce Drysdale Elementary School
School Winners, JV:
First: Bethel Elementary School
Second: Clyde Elementary School
Third: Central Elementary School
The Science Olympiad is a rigorous academic interscholastic competition. For the past several months, students have been preparing for the hands-on, inquiry-based events that are focused on science, technology, engineering, and mathematics (STEM).
Students competed in 19 events throughout the day including Marshmallow Catapult, Backyard Biologist, Sky Quest, Planet Protectors, and many other STEM-based activities. Some events were academic testing, some used pre-engineered devices, and others were on-site labs. Placing was based on the best combined performance of the day.
As the curriculum for younger children increasingly focuses on STEM, Haywood County Schools Elementary Supervisor Ron Moss said the Science Olympiad program expands elementary students' learning.
"The hands-on activities of Science Olympiad get students thinking analytically and critically, and encourages discipline and organization," Moss said. "These kinds of competitions help our students prepare to solve real-world problems."