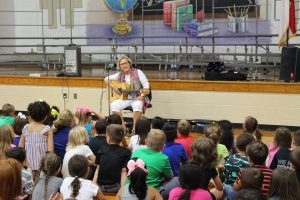 Members of the Church of Brethren National Older Adult Conference held at Lake Junaluska Assembly collected more than 1,200 books for Junaluska Elementary School as part of a local service project. This is the second time the conference has donated to the school.
In 2015, Junaluska Elementary School Principal Sherri Arrington received a phone call from Debbie Eisenbise, organizer of the Church of Brethren National Older Adult Conference.
"She told me that the conference had chosen Junaluska Elementary School as its local mission project while they were in town," Arrington said. "I thought, 'wow that's great.' I had no idea that by the end of the week they would show up with 800 brand new books for our students to take home with them."
After accepting the book donation, Arrington offered to give school tours to any interested conference members. Debbie and Jim Kinsey took Arrington up on her offer and visited the school before they went home to western Michigan.
After getting a tour of the elementary school and talking with Arrington and the teachers, the Kinseys offered to donate even more books to the school.
Over the past two years, the Kinseys have personally donated more than 3,000 books to Junaluska Elementary to build classroom libraries in each third, fourth, and fifth grade class, as well as the English as a Second Language (ESL) classroom.
"I'm a retired educator, so I know how important and beneficial it is for our youngest children to develop a love of reading," Libby said. "Classroom libraries are so valuable because students get exposed to hundreds of books inside their own classroom."
Libby purchased the bulk of the books for Junaluska Elementary while volunteering at the Scholastic Warehouse book sale that is held twice a year near her home.
"The last book sale I worked, I earned the equivalent of $1,000 in books," Libby explained. "The adults in our family also donate to charitable causes at the holidays instead of giving presents. Jim and I chose Junaluska Elementary school as our charity."
The Church of Brethren National Older Adult Conference meets at Lake Junaluska Assembly every other year. Once again, the conference chose to collect new books for Junaluska Elementary School students. Between donations from the conference and the Kinseys, Junaluska Elementary School has received more than 4,000 new books in two years.
This year, conference members came to the school to read stories to each class. Libby also played guitar and sang songs to students in the gymnasium.
"I liked listening to the songs about friends in the gym," Eric, a Junaluska Elementary School student, said. "I like to read books, and I'm excited to read all the new books in my class."
This year's keynote speaker at the conference and author of one of the books donated to Junaluska Elementary was also one of the volunteer readers. Peggy Reiff Miller read her book "The Seagoing Cowboy" to students in 5th and 2nd grade.
"This outpouring of kindness to our students and staff is simply remarkable. We are reminded that each day is an opportunity to have a positive influence on someone we meet," Arrington said. "One never knows when meeting someone for the first time how they will impact your life and the lives of those around you in some incredible way."