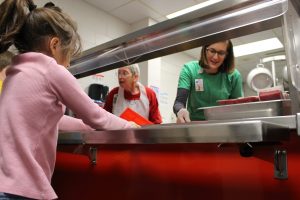 Over the past few months, the Haywood County Schools nutrition department has placed a special focus on student wellness, food variety, and local community support.
Melanie Batchelor was hired as the school system's nutrition supervisor dietitian in August 2017. Since taking that position, Batchelor has been building on the already well-established child nutrition program to put together a strategic plan for designing menus for the county's thousands of students who eat at school each day.
"Changes began to take shape a few years ago when Michelle Obama introduced the Healthy, Hunger Free Kids Act," Batchelor explained. "That made significant changes to the school lunch program for the first time in 30 years."
Following the Healthy, Hunger Free Kids Act, the Haywood County Schools nutrition department has worked to increase the variety of vegetables and fruit, add more whole grains, and decrease foods with added sugar and saturated fat.
Batchelor said the newest project she is most excited about is the introduction of salads into every school three days a week. Other new items on cafeteria menus are grab-and-go wraps made with vegetable-based tortillas and filled with things like egg salad.
"I think a lot of our students and parents don't realize that the salads we serve cost the same as a traditional school lunch," Batchelor said. "That means that if a child receives free or reduced lunch, they can just as easily get a salad if they want."
The Haywood County Schools nutrition department serves more than 2,400 breakfasts and 4,600 lunches each day. Of those thousands of meals served, 50 percent go to children who qualify for free or reduced lunch.
"Many of our students consume the majority of their meals while at school," Batchelor said. "That's why it's so important for me to ensure that they're getting really healthy, well-balanced meals."
Batchelor said the grain-based foods served by the school system's cafeterias must be at least 50 percent whole grains, but she typically plans for 75 to 80 percent whole grains.
Not only have students noticed healthier food options, they have also seen more variety in the menus. This year, Batchelor has implemented a five-week menu rotation.
"The cafeteria staff has told me that they have noticed a positive change in the students," Batchelor said. "They don't seem to be as bored with their food, and they're excited to try new things like mandarin chicken."
Batchelor has continued the school system's relationship with the N.C. Farm to School Program. The N.C. Department of Agriculture & Consumer Services developed the Farm to School Program to give schools across the state the opportunity to receive fresh produce grown by local farmers.
Haywood County Schools has received strawberries, watermelons, cantaloupes, apples, tomatoes, sweet potatoes, red and green cabbage, broccoli, sweet potatoes, blueberries and more that are grown on nearby farms because of the N.C. Farm to School Program.
"We are proud to be able to serve local produce like apples from KT's Orchard in Canton," Batchelor said. "Thanks to the Farm to School program we were also able to serve locally-sourced cauliflower; a vegetable many of our students had never tried before."
Batchelor's job is not all about developing kid-friendly menus. While making sure food tastes good, she also has to meet cost and nutritional guidelines.
"I have to make sure our menus have the correct amount of meat, dairy, fruits, and vegetables, while also taking into consideration calories, saturated fats, and sodium levels," Batchelor explained. "When ordering food, I have to remember the logistics of each school's cafeteria to determine if the staff has the equipment and space needed to prepare certain recipes."
Batchelor says her previous work experience as the health management programs coordinator for Harris Regional Hospital in Sylva, N.C. has helped prepare her for her job with Haywood County Schools. She is also a certified diabetes educator and registered dietitian with a master's degree in health science.
If you would like more information about Haywood County Schools nutrition department, visit www.haywood.k12.nc.us/school-nutrition/.
The Haywood County Schools Foundation offers several ways that the public can contribute to programs that provide food for Haywood County Schools children in need. For more information, contact Executive Director Jenny Wood Valliere at 828-456-2400.