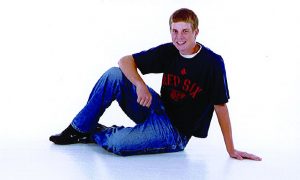 High school baseball season, a time that the late David Sherrill greeted with anticipation and excitement, is just around the corner.
The news of Sherrill's death sent shock waves throughout Haywood County when he tragically lost his life in a car accident on March 31, 2006.
Sherrill was a senior at Tuscola High School and an avid baseball player. In addition to being a stand-out athlete, Sherrill was known as a lovable character who touched the lives of many people through his church, school, community, and his family.
When Sherrill's mother Sherry White was still grieving, the community was determined to find a way to memorialize her son's life.
In January 2007 through donations from many businesses, individuals, Haywood County Schools, Major League Baseball, and an annual golf tournament, the David Sherrill Diamond Skills Center was built and dedicated in Sherrill's memory.
In addition to the baseball-training center an endowed memorial scholarship was established to award students at Tuscola High School who exhibit the same traits he lived every day of his life; hard work, over-achieving and love of his family, church and friends.
"I knew he was special, and he was special to a lot of people in the community," White said. "When he passed, they wanted to do something in his memory."
White said the fundraising efforts for the training center were initially started by Mackie and David McKay of RCF Construction. Rob and Jeanne Poulan, whose son was friends with Sherrill, were the initial contributors to the scholarship.
Since then, friends and family have hosted golf tournaments, putt-putt competitions, and baseball fundraisers to raise money for the scholarship fund.
Scholarship recipients must be a Tuscola High School senior and preference is given to those who demonstrate a strong work ethic, scholastic achievement, financial need, participation in athletic activities, and involvement in community service.
Since 2007, up to two graduating Tuscola High School seniors have been awarded each year with a $500-1,000 scholarship from the David Sherrill Memorial Scholarship Fund.
This May, the newest David Sherrill Memorial Scholarship recipient will be named at the Haywood County Schools Foundation's Partners in Education Scholarship Ceremony.
"I've asked the scholarship committee to select someone who has overcome hardship because Dave did that," White explained. "He was just a good-hearted person who liked to help people, so I want the recipient to reflect that same positive attitude."
White said that she will always remember her son's contagious smile and likeability that everyone around him recognized.
"I just want everyone to know, especially high school students, that seat belts save lives," White said. "Dave wasn't wearing a seat belt the night he was in the car accident, and it could have saved his life."
Last year, 97 high school seniors from Pisgah, Tuscola, Central Haywood, and Haywood Early College received scholarships from the Haywood County Schools Foundation totaling more than $162,000.
Applications are currently open for all of Haywood County Schools Foundation's scholarships, including the David Sherrill Memorial Scholarship. High school seniors may pick up an application at their school's guidance counseling center or download an application at www.hcsf.haywood.k12.nc.us. The deadline to apply is March 12.
The Haywood County Schools Foundation currently manages more than 60 scholarships that have been established by businesses and individuals in the community. Scholarships may be endowed or funded annually. Criteria for awarding the scholarship are designed by the donors and the Foundation Board of Directors. Endowed scholarships are generated through the investment of permanently-held principals, so that only the income from the principal is used for scholarship awards.
For more information about donating to the David Sherrill Memorial Scholarship or setting up a scholarship through the Haywood County Schools Foundation, contact Executive Director Jenny Wood Valliere at 828-456-2400 or visit www.hcsf.haywood.k12.nc.us.