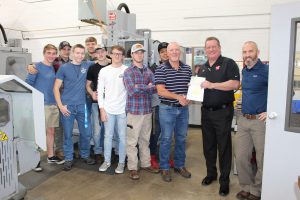 For the third year in a row, Pisgah High School's machining program received a $10,000 grant from the Gene Haas Foundation.
The grant will be used to provide scholarships to Pisgah seniors who plan to major in a manufacturing or engineering related field in college. Students are eligible to receive up to a $2,000 scholarship.
"Haas really supports education, and we've received tremendous support from them in the form of equipment discounts, technical support, and monetary donations," Pisgah machining teacher Chip Singleton explained. "Machining is such a great career field for our students. It has a wide range of appeal because they can go to work right out of high school or go on to college and get a two- or four-year degree."
The Gene Haas Foundation was established in 1999 by Gene Haas, the owner of Haas Automation, Inc. Haas Automation is a billion-dollar company and is America's leading builder of CNC machine tools. The Foundation is focused on giving scholarships to students who are pursuing CNC machinist training.
Kip Asmuth, a sales engineer with Phillips, presented Singleton with the $10,000 check. Phillips is the Southeast's sole distributer of Haas equipment.
"I've worked with Chip for years, and he's developed a really innovative machining program here at Pisgah," Asmuth said. "Chip's program opens up many doors for students to become a part of the fast-growing, high-tech machining field."
Lance Shallenberger, a senior in Singleton's machining level III class, filled out a scholarship application and is hoping to benefit from the Haas Foundation donation. He will be attending Western Carolina University this fall to major in engineering technology.
"I've learned how to operate manual machines all the way up to creating CNC codes and running it on the large machines," Shallenberger said. "I like being able to see what I'm designing on the computer and then making a finished product on the machine."
Shallenberger, an avid outdoorsman, hopes to one day work for a mountain bike company as an engineer.
The training that students, like Shallenberger, receive in Pisgah's machining program is meant to set themselves, as well as companies and the local economy, up for success.
According to a recent report from the Manufacturing Institute, the skills gap in the U.S. manufacturing industry is expected to result in two million jobs going unfilled over the next decade.
Factors contributing to the shortage of skilled workforce include baby boomer retirements, economic expansion, loss of embedded knowledge due to movement of experienced workers, a negative image of the manufacturing industry among younger generations, lack of STEM skills among workers, and a gradual decline of technical education programs in public high schools.
At Pisgah's career fair in March, many manufacturing companies in the surrounding areas reported that they had the difficult task of hiring highly-skilled workers to build in-demand products.
"Our machining program is working to build a pipeline of qualified and dedicated young workers who are excited about manufacturing and eager to launch a successful career," Singleton said.