The Haywood County Schools Foundation recognized Bethel Elementary School teacher Meredith Allen and Bethel Middle School teacher Ron Hundley with Excellence in Education awards for the month of May.
The Excellence in Education program recognizes teachers from Haywood County Schools who exemplify a commitment to innovative teaching practices and show dedication to student success. The program is sponsored by Jack Bishop of Edward Jones and the Haywood County Schools Foundation.
"Our teachers in Haywood County changes students' lives for the better every day," Bishop said. "This gift is just a small thank you from our office for everything they do for our children."
Each month, teachers from the 15 Haywood County Schools are recognized with an Excellence in Education award. Award winners are presented with a certificate and a $100 check sponsored by Bishop.
"Teachers are some of the most influential role models that our students have," Haywood County Schools Foundation Executive Director Jenny Wood Valliere said. "Ms. Allen and Mr. Hundley, like so many of our teachers, truly care about the wellbeing of their students."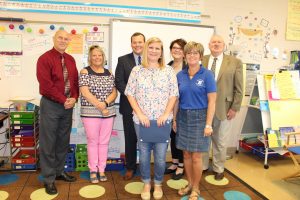 MEREDITH ALLEN
Third grade teacher Meredith Allen is currently finishing up her fifth year of teaching at Bethel Elementary School. At any given time, Allen is teaching her third graders about everything from current events to how to write reports to multiplication.
Allen said her main goal as a teacher is to design learning tasks that encourage students to develop independence and responsibility.
"I try to lead them through the process of learning but put a lot of emphasis on working in small groups to foster that sense of independence and responsibility," Allen explained. "When they are collaborating with their classmates, they are building off what they already know."
Like many teachers, Allen says she cannot imagine doing anything else.
"Elementary school is such an exciting time because kids are learning so much so fast," Allen said. "I love seeing things click for kids, especially when they have struggled with something and then their hard work and perseverance pays off and they get it."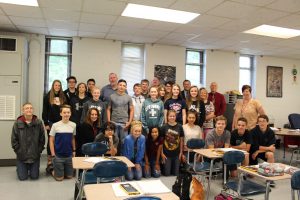 RON HUNDLEY
For the past 21 years, Ron Hundley has been teaching Haywood County Schools' middle school students. He taught at Waynesville Middle School for 15 years and has been teaching at Bethel Middle School for the past six years.
Hundley currently teaches eighth grade math. His lesson plans cover linear functions and the Pythagorean Theory, but Hundley says he teaches much more than that.
"My students learn not to be intimidated by math, and that it's ok to get frustrated by it sometimes as long as you make up your mind to persevere," Hundley said. "Besides math, they learn to value other's insight into solving problems, and just because we did a problem in different ways, that doesn't mean that one of us is wrong."
When Hundley is not in the classroom, he is most likely in the gym or on the field coaching sports. He coached soccer at Waynesville Middle for 13 years and has been a basketball coach at Bethel Middle for four years.
While many might think spending that much time with middle school students would be difficult, Hundley said that he enjoys the interactions he has with his eighth graders.
"I get to laugh many times a day, but I also really like getting to be a part of teenagers discovering that they can figure stuff out on their own," Hundley explained. "In class, we celebrate the thought process as much as right answers, because learning to think and reason will serve them well in their future – both in school and life in general."