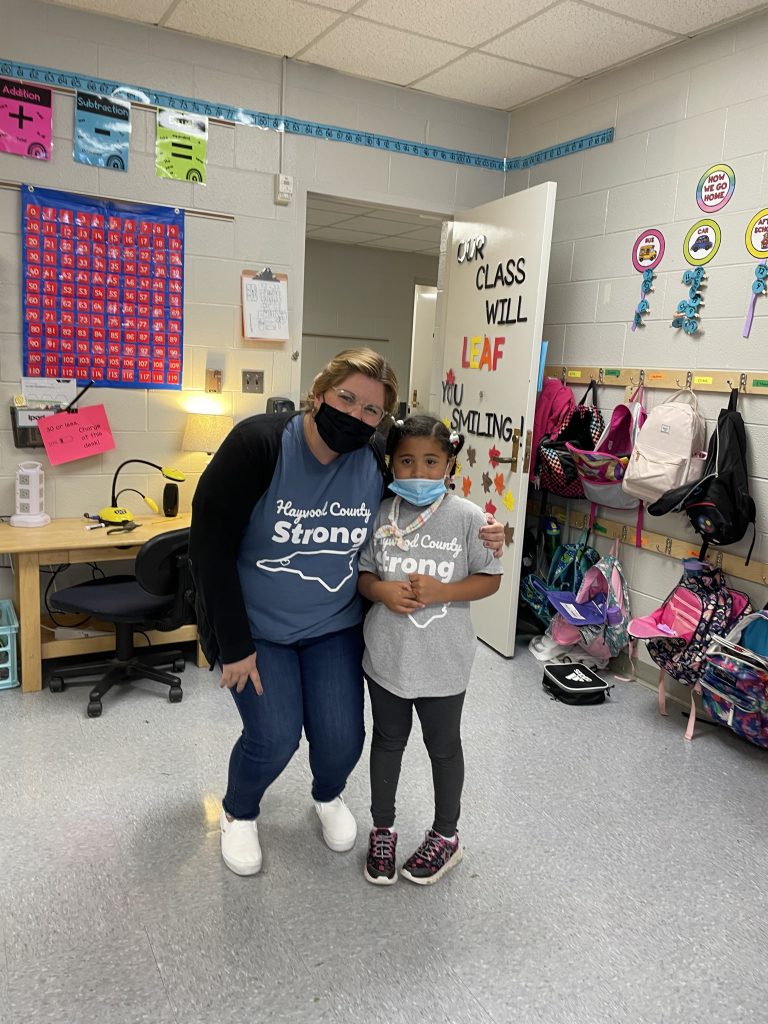 Jonathan Valley Elementary School teacher Katelyn Harris is behind the design of the wildly popular Haywood County Strong t-shirt. To date, the online t-shirt fundraiser has raised nearly $19,000 for Haywood County flood victims.
Not long after school began for Haywood County Schools students, the Bethel and Canton areas were hit hard by Tropical Storm Fred. Several of the district's students lost everything in the flood.
As Harris and others across the county returned to school, volunteers descended on the area to begin cleanup efforts. Harris felt a deep sadness as she looked at pictures of her friends and co-workers shoveling mud out of homes in Bethel and the streets of Canton.
"My friends inspired me because they were working really hard to clean up and help their students," Harris explained. "I wanted a way to help too."
As she mulled over ways to help, the thought of a t-shirt fundraiser popped into her head. She grabbed her laptop and began comparing fundraising websites. She settled on Bonfire, a free online platform where anyone can design, sell, and buy custom products for fundraisers.
She began playing around with a design and decided on a simple North Carolina state silhouette with a heart in Haywood County's location. She added Haywood County Strong to the top of the graphic.
"I felt like the simpler, the better," Harris said. "I didn't want to overcomplicate the simple message of 'Haywood County Strong' that people in the community had been saying."
Harris went to the lead teacher and principal at Jonathan Valley to share her idea. They got her in touch with Jenny Wood at the Haywood County Schools Foundation.
Wood worked with Harris to set the fundraiser up, so all money raised would go to the Foundation for dispersal among Haywood County Schools students who were directly affected by the flood.
Once Harris finalized her design, she posted the website link on social media, and principals began sharing the link with their staff members.
"As I was designing the shirt, I figured it would raise maybe $500," Harris said. "I didn't really have a lot of expectations."
Within 24 hours, the t-shirt fundraiser had brought in more than $5,000.
After five weeks of sales, more than 1,000 t-shirts have been ordered from people across the country.
"I was blown away by all the people sharing the link online," Harris said. "People from all over were buying the shirts. People who didn't even have direct links to Haywood County were supporting us."
The majority of orders were from Haywood County, but people from as far away as Oregon and Michigan bought shirts. Harris' kindergarten teacher from California even bought a shirt.
"I'm not originally from Haywood County, but I've fallen in love with the area," Harris explained. "Everyone in this community is so willing to help each other, and I'm happy that this fundraiser has been so successful."
The fundraiser is currently closed, but Harris said it could open back up if there's enough interest to run another batch of shirts. To put your name on the interest list, simply go to www.bonfire.com/hcs and click the "I would buy this" button. The shirts are available in several styles, colors, and sizes, including children's.