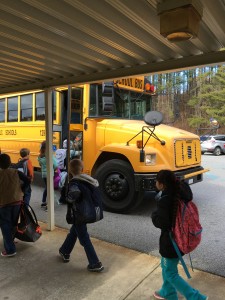 Haywood County Schools is honoring bus drivers February 8-12 as part of North Carolina School Bus Appreciation Week. Each day during the school year, students living on the rural roads of Fines Creek to the narrow neighborhood avenues of Canton are transported by Haywood County Schools' buses. Haywood County Schools operates 74 buses, which transport an average of 3,255 students daily.
Kelley Messer is one of Haywood County Schools' 86 bus drivers. She has been driving a school bus for Junaluska Elementary School for four years.
"I enjoy seeing the kids each day and listening to their stories" Messer said. "It's rewarding to see them grow over the years."
Schools across the county are honoring bus drivers throughout the week and recognizing them for their commitment to safely transporting students.
"I love my bus driver Ms. Brittney," Junaluska Elementary kindergartner Nova Grace said. "I like to talk to her and tell her what I did at school."
School bus drivers go through intense, highly-specialized training to ensure they are knowledgeable about student behavior management, school bus features, the loading and unloading process and security and emergency medical procedures. In order to keep their Commercial Driver's License (CDL) with a School Bus Endorsement, drivers must participate in pre-employment and random drug and alcohol tests, driving record checks, background checks and medical exams. The safety, security, health and driver qualification standards, by which the school bus industry abides, in some cases, exceed federal and state laws. This is to ensure that school buses remain the safest mode of transportation for all United States school children.
"School bus drivers are a crucial link to the education system in Haywood County," Todd Trantham, Haywood County Schools director of transportation and technology, said. "Without them, thousands of children in our area would have no other way to get to school each day. School Bus Appreciation Week is an opportunity for us to thank the drivers who not only safely take our children to school each day, but also serve as role models and friends to our children."
The mechanics and support staff of Haywood County Schools is also being recognized this week for their vital role in keeping the county's 74 yellow buses, 12 spares, and 21 activity buses running safely.
Some measures to ensure children are safe when they enter or exit the bus include the yellow color and size, height, reinforced sides, flashing red lights, cross view mirrors, as well as crossing and stop sign arms.
According to the National Academy of Sciences and the U.S. Department of Transportation, school buses are the safest form of transportation for getting children to and from school. The Transportation Research Board, a part of the National Academy of Sciences, reports that a child is 13 times safer in a school bus than in other modes of travel.
The school bus system is the largest transportation system in the United States. According to the North Carolina Department of Public Instruction, 14,104 school buses operate daily in the state, traveling a total of 181,285,181 route miles per year.