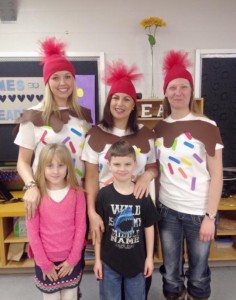 Meadowbrook Elementary School students warmed up from the chill of winter with a hot chocolate and snowball sundae read-in earlier this month. The event was a fundraiser for the school's The Leader in Me program.
Students sipped their custom drinks and ate desserts in the school's Leadership Lounge while reading their favorite books. The Leadership Lounge was a new addition to Meadowbrook Elementary this school year. Each month, students who exemplify leadership qualities are invited to enjoy the Leadership Lounge at a breakfast for kindergartners through 2nd graders or a lunch and learn for 3rd through 5th graders.
Meadowbrook Elementary is currently raising money to implement The Leader in Me program, which helps develop students as leaders and teaches the goals outlined in the book "The 7 Habits of Highly Effective People" by Stephen Covey.
"Meadowbrook's goal is to challenge our students to see the greatness in themselves that I know is there," Meadowbrook Elementary Principal Stephanie Mancini said. "The read-in showcased the positive impact that the 7 Habits have already made on our students, and I couldn't be more proud."
Since the beginning of this school year, Meadowbrook students have learned about a new habit each month. The effective habits include: be proactive, begin with the end in mind, put first things first, think win-win, seek first to understand then be understood, synergize, and sharpen the saw.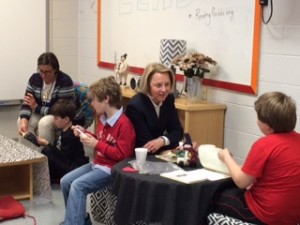 "The hot chocolate and snowball sundae read-in rewarded our students for displaying Habit 3, which is put first things first. Students learned firsthand that by completing their reading first, they were able to receive a sweet treat," Caitlin Hensley, Meadowbrook Title I reading specialist, said. "Teaching students the value of prioritizing their responsibilities is one of the core components of The Leader in Me program, and it's an essential skill for students to learn to become a successful learner."
The 7 habits are used to fine-tune the leadership skills in each student. While it is not new to teach elementary students the importance of leading and making the right decisions, The Leader in Me program aims to teach students in a way that unleashes each child's full potential. Leadership is viewed as an integrated approach, and it is a part of everything the students do. The values and lessons of The Leader in Me and the 7 Habits are illustrated all over the walls at Meadowbrook as a constant reminder to the students.
The community is invited to attend the school's Bring the Green luncheon on Thursday, March 17 to learn more about The Leader in Me program and how they can help the school achieve its vision. For more information about Bring the Green, call 828-646-3445.