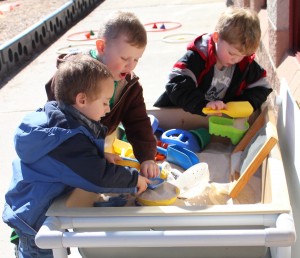 Applications are now being accepted for the North Carolina Pre-Kindergarten program in Haywood County for the 2016-17 school year.
Students who are eligible for the program must be 4 years old by Aug. 31, 2016, live with a parent or guardian in Haywood County, and attend a developmental screening appointment. Children of active duty military families are also eligible.
The Haywood County Pre-K program is a state-funded program that offers free, high-quality education designed to prepare 4-year-olds for school. The following elementary schools in the county have pre-k classes: Clyde, Hazelwood, Jonathan Valley Elementary, Meadowbrook, and North Canton. This program is made possible through Haywood County Schools' partnership with The Region A Partnership for Children and the Department of Child Development and Early Education.
"An average day of Pre-K consists of students playing in different centers, which are changed in the classroom frequently so that kids are always exploring and taking part in different activities," Ron Moss, Haywood County Schools elementary education director, said. "Using exploration and discovery as a way of learning enables children to develop confidence, creativity, and lifelong critical thinking skills."
The Pre-K program is designed on the premise that to be academically successful, children need to be prepared in all five of the developmental domains: approaches to play and learning, emotional and social development, health and physical development, language development and communication, and cognitive development. These developmental domains are critical to children's overall well-being and success in reading and math as they enter school.
Results from the 2013-2014 NC Pre-K Evaluation Study indicate children enrolled in NC Pre-K programs made significant gains from Pre-K through kindergarten across all domains of learning. Children showed gains in language and literacy skills (receptive vocabulary, expressive vocabulary, letter-word identification, phonological awareness), math skills (math problem-solving, counting), general knowledge (basic self-knowledge), and behavior skills (social skills).
North Carolina is one of four states with a pre-k program that meets all 10 National Institute of Early Education Research Benchmarks.  Benchmarks include comprehensive early learning standards; staff meet education/licensure requirements, professional development; 1:9 staff/child ratio; developmental screens and referral; evidence-based curriculum and formative assessments; monitoring and nutritional requirements.
Applications for the Pre-K program are available Feb. 22 – May 6 at the Haywood County Schools Central Office located at 1230 North Main St. in Waynesville. The deadline to submit applications is May 9. For more information about the NC Pre-K program, visit the Haywood County Schools website at www.haywood.k12.nc.us and click on departments, then elementary education. Parents can also call Elaine Clinard at 828-456-2400.