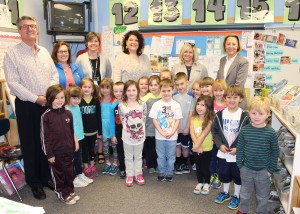 Suzanne Bigsby, fourth-grade teacher at Riverbend Elementary School, and Lisa Cleaveland, kindergarten teacher at Jonathan Valley Elementary School, were recognized with an Excellence in Education award for the month of March.
The Excellence in Education program recognizes teachers from Haywood County Schools who exemplify a commitment to innovative teaching practices and show dedication to student success. The program is sponsored by Jack Bishop of Edward Jones and the Haywood County Schools Foundation (HCSF).
"Our Edward Jones office is honored to be able to recognize Haywood County's outstanding teachers," Bishop said. "Our elementary school educators are instilling a love of learning in our children at an early age. Ms. Bigsby and Ms. Cleaveland are prime examples of the great teachers we have."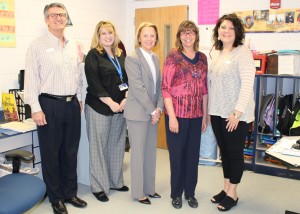 Bigsby has been teaching fourth grade since 1999, and before that was a teacher's assistant. Using research, best practices, and technology, she meets the diverse learning needs of her fourth-grade students.
"The 10-year-old child is fun to teach because they are like little sponges that soak up everything you offer," Bigsby said. "There is a sign in my room that reads 'Sitting = Not an Option.' My students know that there is always something to do to improve their own work or help a fellow classmate."
Over the course of the school year, fourth-graders in Bigsby's class develop their critical thinking skills by reading intricate texts, studying North Carolina history, examining multiple science disciplines, and learning to solve complex math equations.
"The most important lesson that I hope my students receive in my classroom is to take ownership for one's education by developing the traits of drive and perseverance," Bigsby said.
Down the road at Jonathan Valley Elementary School, kindergarten students are beginning their education journey in Cleaveland's classroom. Cleaveland, who has been teaching for nearly 25 years, inspires learning in her classroom. Her teaching style encourages students to reach their full potential.
"Kindergarten is a child's first public school experience, which lays the important groundwork for many years to come," Cleaveland explained. "I want to make sure I educate the whole child and help parents transition too. We are teachers, listeners, care givers and the list goes on."
Cleaveland welcomes the opportunity to help mold her students into children with confidence. She insists that they learn to be independent thinkers and ensures that they are actively involved in their own education.
"The teachers of Haywood County Schools always put their students first, and Ms. Bigsby and Ms. Cleaveland are no exception," Haywood County Schools Foundation Executive Director Jenny Wood said. "The Excellence in Education program is a great way to publicly recognize them as outstanding teachers."
Each month, up to three teachers from the 16 Haywood County Schools are recognized with an Excellence in Education award. Award winners are presented with a certificate and a $100 check sponsored by Bishop.
For more information about the Excellence in Education program contact Jack Bishop at 452-4048 or Jenny Wood of the Haywood County Schools Foundation at 456-2400.