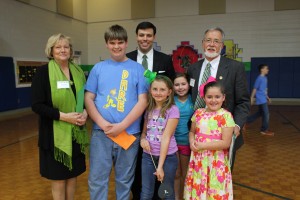 Meadowbrook Elementary School students opened doors and greeted guests as they arrived at the school's Bring the Green event last week.
The event was an introduction for the community to the school's new The Leader in Me program. During the one-hour assembly, students served guests food, sang songs, gave speeches, and led school tours.
"Every day is an amazing day at Meadowbrook Elementary School, and I know every child here is capable of great things," Meadowbrook Principal Stephanie Mancini said. "It takes the whole community to raise our children, and that's why we need everyone's support to implement The Leader in Me."
The Leader in Me program teaches 21st century leadership and life skills to students and creates a culture of student empowerment based on the idea that every child can be a leader. It is not a curriculum or an instructional method, but rather a school culture model in which students learn skills from Stephen Covey's book "The 7 Habits of Highly Effective People ."
Content from "The 7 Habits of Highly Effective People" is a key component of The Leader in Me process. The 7 Habits are a blend of universal, timeless principles of personal and interpersonal effectiveness. The Habits include: be proactive, begin with the end in mind, put first things first, think win-win, seek first to understand then be understood, synergize, and sharpen the saw.
"This is vital for our kids to have access to," Kim Fisher, mother of a first grader at Meadowbrook, said. "This program is teaching them life skills that they need in order to be successful adults in the community."
The Leader in Me program encourages students to set and track personal goals and to take active leadership roles. In Leader in Me schools, students are often the ones who run assemblies and programs, give guided tours around the building, and take on many of the responsibilities that were once the exclusive tasks of teachers and administrators.
To encourage leadership and promote responsibility, Meadowbrook assembled a student flag team with the help of Iraq War Veteran and parent Chris Fisher. With Fisher's instruction, students learned how to properly raise and lower the American flag. Students have also begun making morning announcements and assisting in afterschool activities.
"Our students have asked to start clubs at school, which is something we previously haven't been able to do," Mancini explained. "All of our second graders wrote me letters to ask to start a club to collect toys for homeless children in Haywood County. This kind of leadership initiative wasn't shown before we began The Leader in Me."
More than 2,500 schools worldwide have implemented The Leader in Me program. Buncombe County Schools recently announced that it plans to expand the program from five to 11 schools by 2017. Currently, Hazelwood Elementary School is the only other The Leader in Me school in Haywood County.
Meadowbrook is hoping to raise $75,000 to cover teacher training and classroom materials. Mancini has agreed to commemorate fundraising milestones with various challenges. When $5,000 is raised, Mancini and two teachers will camp on the roof of the school. The school's staff will coordinate a flash mob after $10,000 is collected, and Mancini will go sky diving when $25,000 is raised. At the $50,000 mark, Mancini has agreed to shave her head. The final goal of $75,000 will be celebrated with a karaoke performance by teachers.
Tax-deductible donations can be made through the Haywood County Schools Foundation's PayPal account at www.hcsf.haywood.k12.nc.us/donate and designating the money for Meadowbrook's Leader in Me program. Checks can also be mailed to Meadowbrook Elementary School at 85 Morningstar Road, Canton, N.C. 28716. For additional information about The Leader in Me program, call 646-3445.