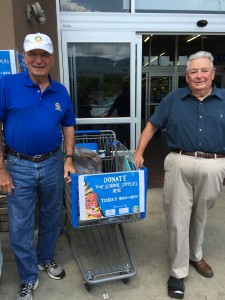 The Haywood County chapters of Altrusa and Rotary hosted a school supplies drive on August 6, 2016 at the Waynesville Wal-Mart.
Outside the main entrance of Wal-Mart, volunteers with Altrusa and Rotary filled a school bus with backpacks, folders, notebooks, crayons, and more.
"Rotary is all about service, and this is a way we can help support our local community and children in need," Rotary member Maurice Phillips said.
Volunteers also collected nearly $750 in monetary donations from shoppers, which will be used to purchase additional supplies for students throughout the school year.
"Promoting literacy is a large part of our community service outreach," Haywood County Altrusa President Cheryl Myers said. "We hope that these supplies will help our local students achieve their education goals."
All the items collected will be donated to any Haywood County Schools student in need.