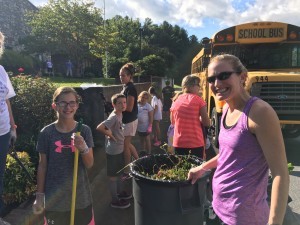 Clyde Elementary School students noticed freshly spread mulch and trimmed shrubbery as they entered the building for the first day of school on Monday, August 20.
Schools across Haywood County, including Clyde Elementary, were flooded with volunteers from churches and community groups during several Day of Caring events. Throughout the month of August, volunteers have worked alongside teachers and staff pressure washing sidewalks, trimming hedges, and cleaning buildings in preparation for the thousands of students returning to school.
"We're so appreciative for our volunteers giving their time and talent to make our school safe and ready for students," Clyde Elementary Principal Clint Connor said. "The community's support is what makes our school great and our students successful."
Day of Caring events are an annual tradition at nearly every school in Haywood County.