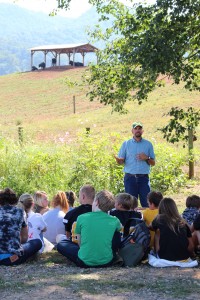 More than 100 Haywood County middle and high school students walked up and down the gravel road at the Mountain Area Research Station as they learned about agriculture-related careers on Thursday, September 8.
Haywood County Schools hosts Ag Career Day each year to provide students valuable networking opportunities with organizations from all areas of the agriculture industry. An array of career paths was on display – from a district ranger with the N.C. Forest Service to a district soil and water conservationist with the county.
"I think many of our students were surprised at all the different job fields that are a part of agriculture," Tuscola High School Horticulture Teacher Beth Ross said. "I can tell that they are excited about the opportunities that are available to them after high school."
Today's agriculture job market includes anything from an agricultural commodities trader working at the Kansas City Board of Trade to an agricultural engineer designing new farm machinery.
According to a 2015 report from the U.S. Department of Agriculture and Perdue University, an average of nearly 60,000 high-skilled agriculture related job openings are expected annually in the United States through 2020, with only about 35,000 students in food, ag, or renewable resources graduating each year to fill them.
"Most people look at agriculture as a very narrow job market, and that's simply not true," Tony McGaha, Haywood County livestock extension agent, said. "Agriculture today is so much bigger than just production. I think the ag job market will continue to grow."
Dr. David McCracken, Country Lane Animal Hospital co-owner and veterinarian, gave students insight into his job duties as a large animal vet. Students learned that Dr. McCracken's work days are anything but typical. He generally arrives at the animal hospital at 9 a.m., but his day may end in a farmer's pasture treating a horse with colic at 9 p.m.
"This particular career day is so important for the young people in Haywood County," Dr. McCracken explained. "These students get to see a small portion of the endless opportunities that are available to them right out of high school or after getting their college degree."
To further foster students' interest in the veterinarian field, County Lane Animal Hospital offers an internship program to rising high school seniors. Students interested in applying for the internship can contact County Lane Animal Hospital at 828-627-9100
"After talking with everyone here, I'm most interested in veterinary medicine," Annie, a Tuscola freshman, said. "I've got four cats, two dogs, and one bird at home. I love animals, and I think I would enjoy being a small animal vet."