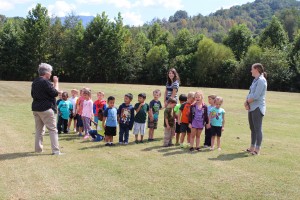 Elijah walked with his thinking buddy, Colton, as their Pre-K class practiced walking in a line on Hazelwood Elementary School's track in preparation for their first field trip to Barber Orchard scheduled for next week.
"I love all the days at school," Elijah said with a smile. "I like to play hopscotch with my friends. We have to take turns."
The Haywood County Pre-K program is a state-funded program that offers free, high-quality education designed to prepare incoming kindergarteners for future learning.
The Pre-K program is made possible through Haywood County Schools' partnership with The Region A Partnership for Children and the Department of Child Development and Early Education.
"An average day of Pre-K consists of students playing in different centers, which are changed in the classroom frequently so that kids are always exploring and taking part in different activities," Ron Moss, Haywood County Schools elementary education director, said. "Using exploration and discovery as a way of learning enables children to develop confidence, creativity, and lifelong critical thinking skills."
The Pre-K program is designed on the premise that to be academically successful, children need to be prepared in all five of the developmental domains: approaches to play and learning, emotional and social development, health and physical development, language development and communication, and cognitive development. These developmental domains are critical to children's overall well-being and success in reading and math as they enter school.
Results from the 2013-2014 NC Pre-K Evaluation Study indicate children enrolled in NC Pre-K programs made significant gains from Pre-K through kindergarten across all domains of learning. Children showed gains in language and literacy skills (receptive vocabulary, expressive vocabulary, letter-word identification, phonological awareness), math skills (math problem-solving, counting), general knowledge (basic self-knowledge), and behavior skills (social skills).
Haywood County Schools' Pre-K program began in 1990 with classes at Central Elementary and Hazelwood Elementary. By 2014, four schools offered Pre-K.
As demand increased, North Canton Elementary and Clyde Elementary added Pre-K classes last year. Due to budget restraints, Haywood County Schools was unable to properly equip the new classrooms with needed supplies.
When Dr. Doris Hammett, a retired Haywood County pediatrician, heard about the Pre-K budget shortfall, she took to Facebook. After posting a plea for donations to the program, friends of Dr. Hammett raised $2,305. That money was used to purchase books for the new classrooms.
This school year, Clyde, Hazelwood, Jonathan Valley, Meadowbrook, and North Canton elementary schools all have Pre-K classes.
For more information about making a tax-deductible donation to the Haywood County Schools Foundation, contact Jenny Wood at 828-456-2400. Donations can be made to specific schools, causes, or programs such as Pre-K. Contributions may take the form of a cash gift, appreciated securities or real estate, life insurance, charitable remainder, non-profit organization assets, memorials, estate gifts or wills and bequests, or other real or personal property.