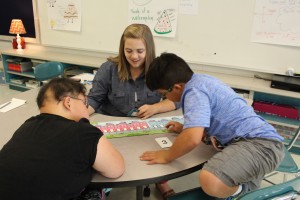 As Jessalyn Rathbone sat at a table helping her students draw numbers, she recalled that even at their age, she knew she wanted to be a teacher. Although this is her first year of teaching, Rathbone is convinced that she has found her life's passion.
"I knew I wanted to be a teacher before I even went to kindergarten," said Rathbone, who is now an Exceptional Children's teacher at Clyde Elementary School.
Although Rathbone has always had a passion for education, it was not until her younger cousin was diagnosed with a disability that Rathbone knew she wanted to teach special education.
"As I was continuously around people with special needs in school and in my family, my heart grew more than I ever could have imagined," Rathbone said. "I knew that God had created me to teach special education."
Each day as her students enter class, Rathbone greets them with a warm smile. She said her goal is to not only help her students learn, but to help them find joy in their lives.
As a recent college graduate from Western Carolina, Rathbone has brought a fresh perspective and enthusiasm for teaching to Clyde Elementary School.
"Teachers, I believe, are the most responsible and important members in society because their efforts shape kids' lives daily," Clyde Principal Clint Connor said. "Ms. Rathbone is one of the most caring and dedicated beginning teachers in this business. We have recruited a gem here at Clyde Elementary.​"
As a beginning teacher, Rathbone said she has relied heavily on the support from her co-workers at Clyde Elementary.
"I love the sense of community that I feel at Clyde, and I'm thankful to work with such a strong and amazing team," Rathbone said. "My students are also wonderful, and I can't wait to watch them grow academically, physically, and emotionally over this school year."
Rathbone's class is comprised of 11 students in fourth and fifth grade with varying degrees of special needs.
"My hope is that all my students become valued members of their communities," Rathbone said with a smile. "I want to show them if they set a goal, they can achieve it; just like I did when I became a teacher."
Rathbone is a product of Haywood County Schools. She attended Meadowbrook Elementary School, Canton Middle School, and graduated from Pisgah High School in 2012.
Due to her strong academic performance, Rathbone was the recipient of the Altrusa Scholarship from the Haywood County Schools Foundation.
"The financial assistance I received from the Haywood County Schools Foundation helped relieve my family of some of the financial burden from college," Rathbone said. "I'm so happy to be able to return to Haywood County and serve as a teacher in one of the best ranked school systems in the state."