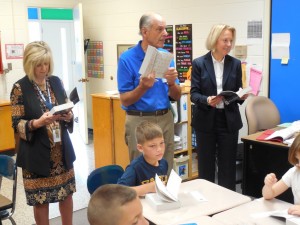 In an effort to promote literacy and learning, the Waynesville Kiwanis Club delivered a dictionary to every third grade student in Haywood County Schools last month.
Throughout the month of September, teams of Kiwanis members visited nine schools to distribute free dictionaries to 569 students. Students were encouraged to use their dictionaries in the classroom and at home.
"The dictionaries are a gift to students that we hope they will use for years to come," Bob Miles, Kiwanis Club dictionary chair, said. "Educators have told us that they view third grade as the dividing line between learning to read and reading to learn."
Since the dictionary program's inception eight years ago, the Kiwanis Club of Waynesville has distributed 5,780 dictionaries to Haywood County Schools students.
After receiving their dictionaries, Junaluska Elementary School students listened as Kiwanis Club member John Franco explained the basics of using dictionaries.
He stressed to students that dictionaries are not just a list of words with meanings. They are tools that give students greater control over their own learning.
"In modern classrooms, students still enjoy holding a book in their hands where they can turn the pages and feel the cover and pages," Junaluska Elementary School Principal Sherri Arrington explained. "Technology can assist students in spelling mistakes, but dictionaries provide the pronunciation of words, parts of speech, and great example sentences."
Arrington said the dictionaries will also be helpful to the school's bilingual students.
"We are so thankful to the Kiwanis Club for their donation," Haywood County Schools Superintendent Dr. Anne Garrett said. "Community involvement is what makes our students and schools successful."
The dictionary program is just one of the projects organized by the Waynesville Kiwanis Club that benefits the children of Haywood County. The annual Kiwanis Spring Fling Family Fun Day, backpacks for schools, the Christmas Parade, and the 5th Grade Spelling Bee all assist local children. In addition, the Kiwanis Club provides grants, mostly to schools, that total in excess of $35,000 annually.
The Kiwanis Club invites anyone who is interested in volunteering their time to better the community to their weekly meetings held every Tuesday at 11:30 a.m. at Laurel Ridge Country Club.