This month, teachers Erica Smiley, Karen Hopkins, and Sharon Cagle were recognized with Excellence in Education awards.
The Excellence in Education program recognizes teachers from Haywood County Schools who exemplify a commitment to innovative teaching practices and show dedication to student success. The program is sponsored by Jack Bishop of Edward Jones and the Haywood County Schools Foundation (HCSF).
"This program is a just a small way that we are able to recognize teachers of Haywood County Schools," Bishop said. "The instruction these teachers provide every day is laying the groundwork for our students to become successful."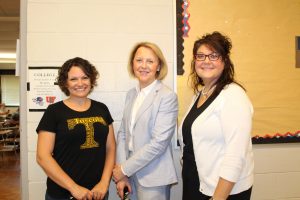 Over the past 13 years, Smiley has taught Haywood County's middle and high school students. She currently teaches American history at Tuscola High School, where she has worked the past three years.
Smiley describes her approach to teaching as one of laughter and joy.
"I know history is not everyone's favorite subject, but I really want my students to at least appreciate what history has done and how it affects their lives," Smiley explained. "In order to keep them focused, I try to throw in humor and fun stories to get the point across."
Besides cracking jokes, Smiley is known for the care and love she shows each of her students. At the end of each semester, she handwrites notes to every student in her class.
"I love teaching, and it is so rewarding to see students understand history and even come to love it," Smiley said. "I want all my kids to know they are special and valued, no matter what their grade is or how popular they perceive themselves."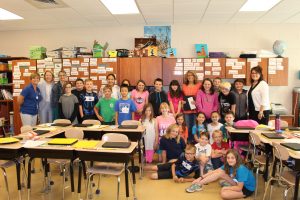 Across the county at Bethel Elementary School, fourth grade students are learning new lessons in reading, math, writing, science, and social studies in Hopkins' class.
"My heart is blessed each day as I help children realize their value and potential," Hopkins said with a smile. "My students know that I have high expectations, and they rise to meet those expectations every day."
Although Hopkins has been teaching for a long time, she says that each day is different, and she loves watching her students learn and grow together academically and socially.
"My classroom is a place where students are encouraged to collaborate with each other across every subject area," Hopkins said. "They know that we learn best by teaching and sharing with others."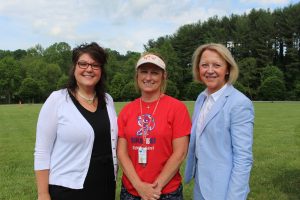 Down the road at Junaluska Elementary School in Coach Cagle's gymnasium, students practice motor skills and overall movement.
Cagle, who has been teaching PE for 19 years, says her teaching style is best described as real.
"I am very straight forward and honest with my students, and I treat them the same way I would treat my own kids," Cagle explained. "I have high standards for them and expect their best; but most of all, I care deeply for them and I love them very, very much."
While competing in games or sports, Cagle emphasizes the importance of winning gracefully and losing with character. When students prepare to enter middle school, Cagle said she hopes that they have learned how to work together to achieve a common goal and discovered ways to push themselves as individuals inside and outside of the gym.
"Ms. Smiley, Ms. Hopkins, and Coach Cagle are three examples of the great teachers that are working for Haywood County Schools," Haywood County Schools Foundation Executive Director Jenny Wood Valliere said. "We are so happy to publicly recognize their efforts with the Excellence in Education program."
Each month, up to three teachers from the 15 Haywood County Schools are recognized with an Excellence in Education award. Award winners are presented with a certificate and a $100 check sponsored by Bishop.