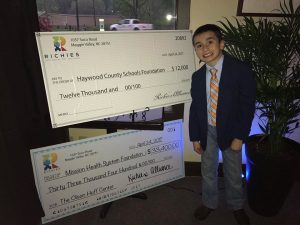 Louis and Debbie Perrone, owners of Frankie's Italian Trattoria in Maggie Valley, have dedicated the past three years of their lives to raising money and awareness for autism.
During the month of April, Frankie's, along with dozens of other local restaurants and businesses, raised nearly $60,000 for Richie's Alliance, a non-profit the Perrones established in honor of their son, Richie, who has autism.
Of the $60,000 raised, Richie's Alliance donated $12,000 to the Haywood County Schools Foundation, with the remainder going to the Olson Huff Center at Mission Children's Hospital.
The donation to the Haywood County Schools Foundation will be used to support children requiring assistance in the Exceptional Children's (EC) department and to create scholarships for two graduating seniors.
"Richie has assistance in the classroom, and we wanted to ensure that any child who needs help gets it," Debbie explained. "Richie could not have been as successful in school without his aide."
Richie, who just finished up fifth grade at Jonathan Valley Elementary School, will enter sixth grade at Waynesville Middle School in August.
"The staff at Jonathan Valley have been amazing to Richie, and I'm kind of sad that he will be leaving a place that he loves so much," Debbie said. "We've seen such great support for him in school, and I know that all my children are receiving a good education in Haywood County."
The scholarships from Richie's Alliance will each be worth $1,000 and will be open to any Haywood County Schools senior who has special needs. Haywood County Schools Foundation's scholarship application will be available in January 2018 at each high school's guidance center.
"I want the scholarships to be for those students who otherwise feel like college might be out of their reach," Debbie explained. "I hope that these scholarships will be an incentive for them and encourage them to follow their dreams."
The fundraising events for Richie's Alliance are held in April each year in conjunction with National Autism Awareness Month and Richie's own birthday.
In 2015, Frankie's and a few other restaurants raised about $5,000 for the Olson Huff Center with a Dine out for Autism event.
"After that first year, I knew that this could be something really big," Louis explained. "We created Richie's Alliance the next year in hopes to grow the event and raise more money for autism services."
The Perrones succeeded and raised $23,000 in 2016 and more than doubled that this year.
Dozens of local restaurants from Maggie Valley to Dillsboro donated 10 percent of their revenue on April 12, 2017 for Dine out for Autism. That same day, 64 golfers hit the greens at Maggie Valley Country Club for the Casino Royale Autism Awareness Golf Tournament presented by Ken Wilson Ford. The final event, Taste presented by Biltmore Estate, featured dozens of restaurants, breweries, and wineries. Just the live and silent auctions alone at the Taste event raised nearly $30,000.
Louis said his family is setting their sights even higher for 2018.
"Our board is working to make our events bigger and better for next year," Louis said. "It's amazing to see the support our local community has shown Richie's Alliance, autism, and our family."
"I want people to know that autism is not scary," Debbie said with a smile. "Richie teaches me so much every day, and I love seeing things from his perspective."
Next year's Richie's Alliance fundraisers will be held the week of April 9, 2018. For more information, visit www.richiesalliance.org.
For more information about the scholarships available through the Haywood County Schools Foundation or to make a donation, contact Jenny Wood Valliere at 828-452-2400 ext 2117.