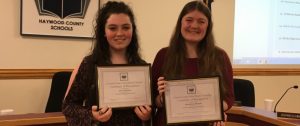 Two Haywood County rising high school seniors will attend the Governor's School of North Carolina this summer. Gracelyn Woods from Pisgah High School and Joza Ballance from Tuscola High School were selected for the highly-coveted and competitive summer academic program.
The Governor's School of North Carolina is a summer residential program for intellectually gifted high school students that integrates academic disciplines, the arts and unique coursework. The curriculum focuses on the exploration of the most recent ideas and concepts in English, French, Spanish, mathematics, natural science, social science, art, choral music, instrumental music, theater and dance.
Students were selected to apply for Governor's School in one of the above disciplines based on their grades. The application, which students submitted last fall, included two essays and two letters of recommendation.
To be eligible, students must be N.C. residents, enrolled in 11th grade, have achievement test scores between the 92 and 99 percentile ranges, and supply their class rank and transcripts.
Once Haywood County submitted their applications to the state, a selection committee with specialists in each academic discipline reviewed and scored each student application. Haywood County's students were notified of their acceptance in March.
Woods and Ballance were both selected for English. Woods will attend Governor's School West at Salem College in Winston-Salem and Ballance will attend Governor's School East at Meredith College in Raleigh.
"English is my love and passion," Woods said with a smile. "I love my AP English class because it makes me question people, politics, and other current events while helping me develop my own opinion."
The English curriculum focuses on modern and post-modern fiction, poetry, and drama. During Governor's School, students will be encouraged to read closely, imaginatively, analytically, and empathetically. Many of the classes will incorporate creative and analytical writing workshops to help students improve their writing.
"I love reading books with quirky characters and analyzing poetry," Ballance said. "I think the diversity I'll be immersed in at Governor's School will help me look at the world from other perspectives."
During Governor's School, students complete an intense study of the field they were nominated in and attend classes that encourage group discussion of practical applications of theory. Students have the opportunity to learn from speakers, performances, exhibitions, field trips, demonstrations, seminars and film series. When students are not in class, social and recreational events are offered.
"I'm really hoping Governor's School will be kind of like a college experience for me," Woods explained. "It will be nice to be around hundreds of like-minded kids my own age who are excited to learn."
Woods and Ballance will complete the nearly six-week program from June 17 to July 25 with a three-day midsession break in July.
The cost of the program for the two Haywood County Schools' students is being paid for by a donation from Dr. Doris Hammett, a local Haywood County Schools supporter and retired pediatrician.
"It's amazing to me that someone from our community truly wants to help provide these great experiences for kids in Haywood County," Ballance said.
Woods agreed.
"I probably wouldn't have been able to attend Governor's School without Dr. Hammett's donation," Woods said.
Governor's School faculty and staff include teachers and professionals from public and private schools, colleges and universities, and independent artists and scholars.
Governor's School is the oldest statewide summer residential program for academically and intellectually gifted high school students in the nation. Each year, up to 650 N.C. students are selected to attend Governor's School.