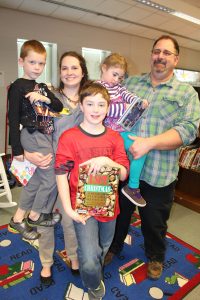 Almost five years after her unexpected death, Anna Williams' presence flooded the Meadowbrook Elementary School media center on Friday, March 2.
Williams was the principal of Meadowbrook when she passed away on October 30, 2013 – just four days after giving birth to her second child, Emily Claire.
Meadowbrook celebrated Williams' legacy with Anna's Birthday Book Bash, an event first thought of by Williams' son John Marshall and his step mother Dana Smith. Students, school staff, and community members donated more than 400 books and $500 in donations at the event to fill classroom libraries at Meadowbrook.
At the book bash, those who knew Williams happily shared memories, laughs, and some tears.
"Anna always loved reading," Brain Smith, Williams' husband, said with a smile. "Someone actually told me the other day that Anna would purchase books for each of the classrooms here every month out of her own pocket. That was just the kind of person she was."
Williams' father, Joe Williams, recalled that she would read five books each night to her son before tucking him in bed.
"John Marshall is a wonderful reader, and Emily Claire has developed Anna's love for reading too," Joe said. "We are grateful that children from Meadowbrook will benefit from this book drive."
Williams grew up in Haywood County and first worked as a teacher and assistant principal in Wake County. After moving back to her hometown, Williams served as an assistant principal at Jonathan Valley, Clyde Elementary and Waynesville Middle School before serving as the principal at Meadowbrook Elementary beginning in 2011.
Former Clyde Elementary School Principal Jeff Haney hired Williams as the school's assistant principal in 2008.
"I just remember when I interviewed her that there was something really special about her and all the passion that she showed for children," Haney said. "She was one of the most special people I have ever had the privilege to work with."
Smith said he is hoping to make Anna's Birthday Book Bash an annual event for Meadowbrook but would like to eventually collect enough books to distribute to other elementary schools.
"We would also love to start a scholarship in her memory," Smith explained. "Some of the kids that Anna was with at Meadowbrook are now in high school, so we thought a scholarship would be a great way to continue honoring her life."
For more information about donating to a scholarship fund in memory of Williams or donating money to Anna's Birthday Book Bash, contact Haywood County Schools Foundation Executive Director Jenny Wood Valliere at 828-456-2400 or visit www.hcsf.haywood.k12.nc.us.