The Haywood County Schools Foundation recognized Riverbend Elementary School media specialist Nikki Barker and Jonathan Valley Elementary School Pre-K teacher Elizabeth Reis with Excellence in Education awards for the month of March.
The Excellence in Education program recognizes teachers from Haywood County Schools who exemplify a commitment to innovative teaching practices and show dedication to student success. The program is sponsored by Jack Bishop of Edward Jones and the Haywood County Schools Foundation.
"Teachers contribute so much to our society and the Haywood County community," Bishop said. "This gift is just a small thank you from our office for preparing our children for success."
Each month, teachers from the 15 Haywood County Schools are recognized with an Excellence in Education award. Award winners are presented with a certificate and a $100 check sponsored by Bishop.
"Teachers play such an extraordinary role in the lives of our children, and Ms. Barker and Ms. Reis are no exception," Haywood County Schools Foundation Executive Director Jenny Wood Valliere said. "Their passionate, motivating, and caring attitudes are what make Haywood County Schools stand out as a top performer in the state year after year."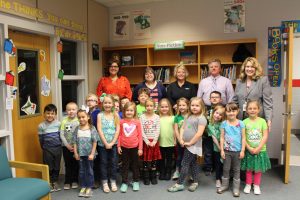 NIKKI BARKER
Nikki Barker has taught at Riverbend Elementary School her entire 15-year teaching career. She taught fifth grade for nine years before becoming the school's media specialist.
Elementary schools' media centers are more than just libraries. As a media specialist, Barker teaches everything from math to social studies to the school's entire student body. She often collaboratively plans lessons and projects with teachers that reinforce or teach a key concept that the class is studying.
"I love getting to see that spark in students' eyes when they understand or comprehend something that they might have been struggling with," Barker explained. "I feel children learn best when they can experiment and apply their knowledge to see if it works and then try again if it doesn't."
Barker is also responsible for teaching media and technology standards, digital citizenship, and best practices to stay safe online.
Not surprisingly, Barker said that her passion for teaching children to love reading is what first drew her to the media specialist position.
"I have really enjoyed introducing different topics, like STEM or cultures from around the world, to my students through literature," Barker said. "I try to be a facilitator and allow the kids to be hands-on learners who enjoy discovering new information through books."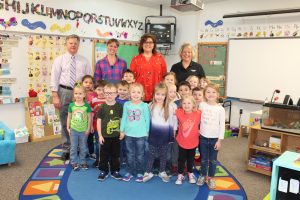 ELIZABETH REIS
Before joining Jonathan Valley Elementary School four years ago, Elizabeth Reis was student teaching in New York City where she spent two years in diverse settings in Harlem, the Upper West Side, and the Lower East Side while attending graduate school.
"What I love most about teaching is fostering a classroom community where we become a family that learns together," Reis said. "I feel joy watching each child grow and reveal themselves at their own pace."
As a Pre-K teacher, Reis said her main goal is to prepare her four- and five-year-old students to be successful in school and life. Reis spends her days teaching the alphabet, phonics, counting, and number recognition, as well as social and emotional awareness.
"My classroom is a place where students can feel comfortable making mistakes and being themselves; where they work hard to communicate with new people who may have different ideas and styles than they do," Reis explained. "When you have kids who are excited to be in the classroom community, then they feel ready and committed to do so much more for you, for themselves, and for other people."