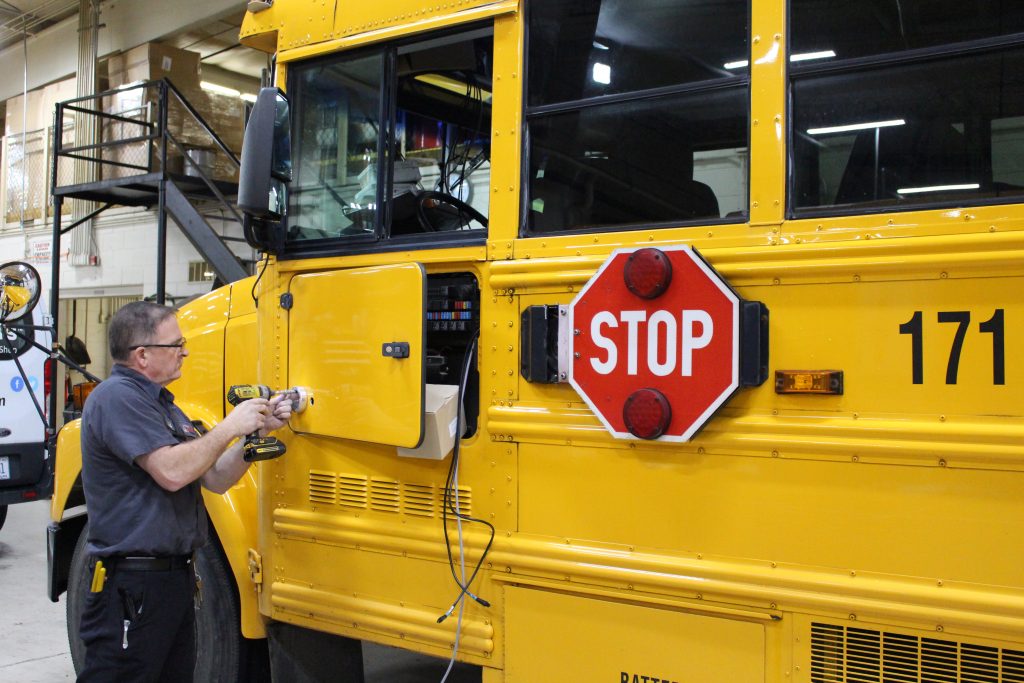 The Waynesville Rotary and Haywood Rotary clubs recently donated $8,000 to Haywood County Schools to install bus camera systems on three school buses.
Each bus camera system includes three exterior cameras and four interior cameras. The exterior cameras are mounted at the front and back of the bus and on the stop arm to record drivers who violate the NC School Bus Stop Law.
"We are very appreciative of the donation from our local Rotary clubs," Dr. Trevor Putnam, Haywood County Schools associate superintendent, said. "The cameras will help us increase safety off of the bus and also promote student accountability on the bus."
Currently, more than half of Haywood County Schools' buses are equipped with camera systems. As buses are replaced, new buses are purchased with pre-installed camera systems.
The Waynesville Rotary and Haywood Rotary each raised $2,000, and the district-level Rotary matched their donation with an additional $4,000.
"Children's safety is the most important thing," Celesa Willett, Haywood Rotary president, said. "We're also hoping this donation will bring an awareness about school bus safety for our community."
The new exterior and interior video cameras continuously record during a bus route. The recording system captures the bus's speed, braking, deployment of amber warning lights and deployment of stoparm.
Once a stoparm violation is observed, the bus driver triggers a sensor to time-mark the video. Embedded with GPS and mapping, the playback software enables the transportation department to study the passing events in detail. They can toggle through different cameras to study the image frame by frame with local law enforcement.
Under the NC School Bus Stop Law, when a school bus stops for passengers all traffic from both directions must stop on two-lane roadways, two-lane roadways with a center turn lane, and four-lane roadways without a median separation.
There are only two times oncoming traffic does not have to stop for a stopped school bus: when a school bus stops for passengers on any divided highway with a median separation or roadway of four lanes or more with a center turning lane.
Drivers should not proceed to move, pass, or attempt to pass a school bus until after the mechanical stop signal has been withdrawn, the flashing red stoplights have been turned off, and the bus has started to move.
According to the N.C. Highway Patrol, 3,100 cars pass stopped school buses in the state each year.
Most traffic violations are infractions, however, passing a stopped school bus is a class 1 misdemeanor.
If convicted, a person will receive five driving points on their driver's license and is subject to fines up to $500. Passing a stopped school bus is a class I felony if the driver strikes an individual and a class H felony should the violation result in a death.
Passing a stopped school bus also puts four points on a driver's insurance policy, causing premiums to increase by 80 percent for three years from the date of conviction.
The bus camera donation is just one of many local initiatives local rotaries support.
The Haywood Rotary Club is hosting a virtual benefit drawing for to raise money for scholarships for local high school seniors. To purchase a ticket, contact a Haywood Rotary member.
The Waynesville Rotary hopes to resume its fundraising efforts later this year at the Lake Logan International Triathlon and next year's Downtown Waynesville Chili Cookoff.