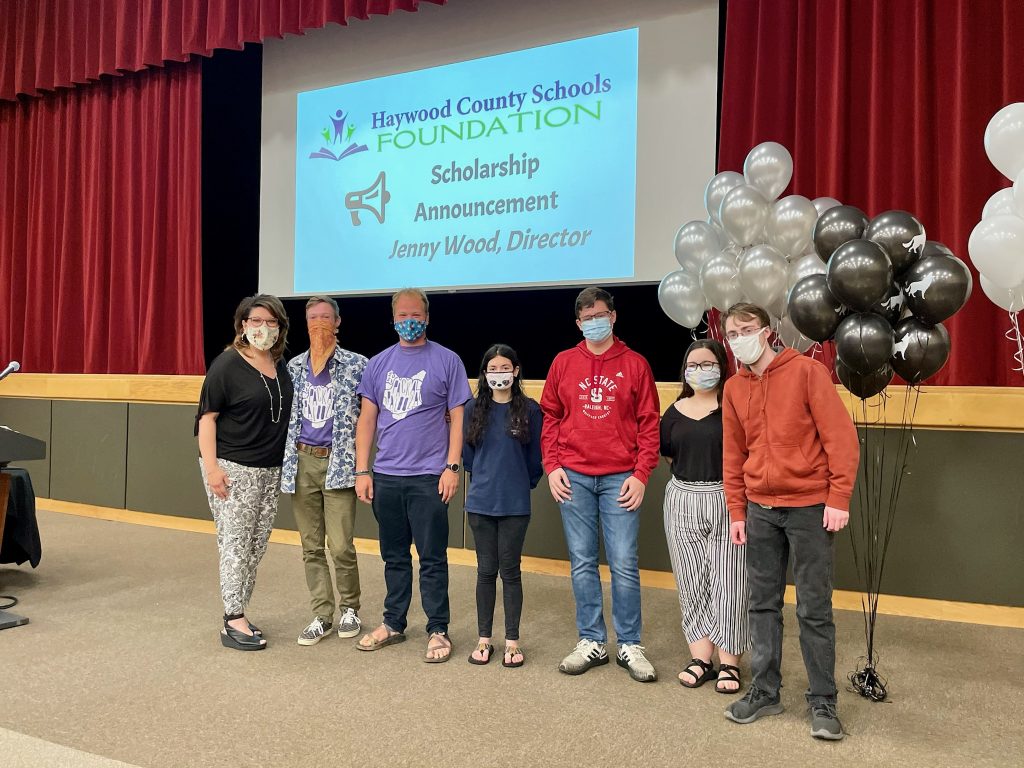 The Haywood County Schools Foundation awarded 88 Pisgah, Tuscola, Haywood Early College, and Central Haywood high school seniors with 119 scholarships totaling $229,050 last week. Scholarship amounts ranged from $500 to $40,000.
Typically, students are surprised at school with the news, but this year student were notified via e-mail.
"Our students have gone through so much over the past year and a half, and I'm so happy we are able to reward these hard-working students with scholarships," Jenny Wood, Haywood County Schools Foundation executive director, said. "Virtual school was an adjustment for them, but students stepped up and continued to excel in their academics."
Currently, the Foundation manages more than 60 scholarships. Scholarships may be endowed or funded annually. Criteria for awarding the scholarship are designed by the donors and the Foundation Board of Directors. Endowed scholarships are generated through the investment of permanently-held principals, so that only the income from the principal is used for scholarship awards.
For more information about donating to a scholarship fund or setting up a scholarship through the Haywood County Schools Foundation, contact Executive Director Jenny Wood at 456-2400 or visit www.hcsf.haywood.k12.nc.us.
2021 SCHOLARSHIP RECIPIENTS
• Charlotte Allsbrook, HEC: QuickDraw-Art
• Riley Beaulieu, HEC: Patricia C. Liner, RN Memorial
• Samuel Beaulieu, HEC: Waynesville Garden Club-Horticulture
• William Bradford, PHS: Doris Plott Memorial
• Shelby Bramlett, PHS: Junaluska Ross-Lance
• Alesea Caldwell, THS: Mark Douglas Parris Memorial and Robert E. & Viola Forga
• William Caldwell, THS: Haywood County Community Band
• Hudson Carver, PHS: Kinsland Family
• Christine Case, THS: Altrusa International of Waynesville- Hammett and WOW – Lynda Chovan Memorial
• Sarah Cauley, THS: Patricia C. Liner, RN Memorial
• Laurel Causby, THS: SECU People Helping People
• Alexander Collins, PHS: Altrusa International of Waynesville-Arnold, Gene Haas Foundation, and Justin Inman Memorial
• Madelyn Rilee Conard, PHS: SECU People Helping People
• Leandra Davis, PHS: Frank & Kathryn G. Kirkpatrick Memorial, Mary Gillis Educational Memorial, and Sonoma Masonic Lodge
• Tanner Devlin, PHS: Haywood County Schools Foundation
• Trent Devlin, PHS: Haywood County Schools Foundation
• Hannah Douville, CHHS: Pepsi-Cola Bottling Co. of WNC-Vocational
• Emily Duvall, THS: Tuscola Class of 1973 and Waynesville Lions Club-Charles Balentine Sr. Memorial
• M. Alexis Enggren, HEC: United Community Bank
• Victoria Estes, THS: Haywood County Schools Foundation and Waynesville Woman's Club
• Kain Fortney, THS: Haywood County Schools Foundation
• Andjelka Francis, PHS: Canopy Realtor Association/Western Region
• Veronica Funes, HEC: Haywood County Schools Foundation
• Emorie Gibson, PHS: Haywood Rotary Club
• Kathryn Grace Glance, THS: Champion Credit Union-Roland Leatherwood and Smathers Cruso
• Tanner Glance, PHS: Betty Jean Henson Memorial
• Brady Goolsby, PHS: Canton High School Class of 1957
• Joshua Green, THS: United Community Bank
• Logan Green, PHS: Haywood County Schools Foundation
• Karaline Griffin, THS: Haywood County Schools Nutritution
• Charlee Hall, PHS: Smathers Cruso
• Rachel Harden, THS: James & Betty Scott Memorial
• Sage Weaver, THS: Reeves Memorial
• Emma Hendricks, THS: Haywood County Schools Foundation
• Laura Hickox, PHS: PHS Golden Anniversary and Pepsi-Cola Bottling Co. of WNC-Vocational
• Logan Hicks, PHS: James M. & Mary P. Edwards Memorial
• Skylar Higdon, PHS: Clyde Lions Club-Somberg, McCracken & Hannah and Scott Sisters
• William Hodge, PHS: Haywood Rotary Club, Paul Willis JROTC Memorial, and Staff Sgt. Michael Parrott Memorial
• Caleb Holcomb, PHS: Adeline B. Patrick Memorial and Haywood Regional Medical Center
• Jackson Holland, PHS: Haywood Regional Medical Center
• William Holshue, THS: Haywood County Schools Foundation
• Bailey Hooper, THS: Sportsman's Cllub
• Lillian Howell, THS: Canopy Realtor Association/Western Region and Peggy Melville
• Aidan Keefe, PHS: Louise Sellers Memorial
• Clark Larson, THS: Tuscola Class of 1973
• Sophia Lee, THS: Haywood Healthcare Foundation and Waynesville Lions Club-Charles Balentine Sr. Memorial
• Hannah Leopard, THS: Scott Sisters
• Emily Lyda, THS: Charles K. Patterson Memorial
• Chloe Maier, PHS: Champion Credit Union-Roland Leatherwood and Robert E. & Viola Forga
• Amanda Jayde Markley, THS: Champion Credit Union-Roland Leatherwood and Haywood Regional Medical Center
• Joshua Mashburn, THS: Smathers Cruso
• Maggie McCracken, PHS: Champion Credit Union-Roland Leatherwood and Reuben B. Robertson Foundation
• Hailey McMahan, THS: David Sherrill Memorial
• Levi Medford, PHS: Haywood County Fraternal Order of Police and Master Trooper Calvin E. Taylor Memorial
• Elisabeth Michael, PHS: Smathers Cruso
• Daniel Moody, THS: Buddy Chandler Scholarship
• Kendall Myers, THS: Waynesville Woman's Club
• Louis Nieves, PHS: Haywood Rotary Club
• Olivia Owens, PHS: Altrusa International of Waynesville- Prevost and Haywood County Democratic Women
• Anna Phillips, PHS: Altrusa International of Waynesville and Haywood County Democratic Women
• Brooks Pressley, THS: Sharon Blankenship AEOP
• Ava Queen, PHS: Patricia C. Liner, RN Memorial
• Camille Rathbone, PHS: Dr. Mack S. & Beulah Setser Memorial and Plott Memorial
• Payton Renegar, THS: Haywood County Schools Foundation
• William Rhodarmer, PHS: Pepsi-Cola Bottling Co. of WNC-Vocational
• Caleb Richie, THS: Bill Sease Memorial
• Julia Robertson, PHS: Teresa Kaye Ashe Memorial for Nursing
• Sierra Rupe, THS: Posey Family
• John Schreiber, THS: John C. Howell Memorial
• Hannah Grace Shipman, THS: Waynesville Woman's Club
• Justin Shuler, THS: Junaluska Ross-Lance
• Ryan Stebbins, THS: Haywood Regional Medical Center
• Marissa Thorman, CHHS: Nick Mastriana Memorial
• Caitlin Traber, THS: Scott Sisters
• Brandon Trantham, CHHS: Reeves Family Memorial
• Hali Trull, THS: B. L. Upton, Sr. & D. E. Tingle Memorial and Haywood County Retired School Personnel
• Jaden Tyson, THS: Elayne Tucker Wadsworth Memorial
• Kacy Vanden Bergh, THS: Altrusa International of Waynesville- Holland and Cynthia Shepherd Culbertson Memorial
• Faith Vang, HEC: Altrusa International of Waynesville, First Citizens Bank, and Scott Sisters
• Trenton Wantz, PHS: Jeff Simmons Memorial and Moses L. Robinson Memorial
• Connor Wayman, HEC: Altrusa International of Waynesville- Overbeck
• Trevor Wester, PHS: Haywood County Schools Foundation
• Abigail Westmoreland, THS: Tuscola Class of 1972
• Megan Williams, HEC: Machesney Computer Science
• Emma Willis, PHS: Cynthia Shepherd Culbertson Memorial and Haywood Rotary Club
• Savannah Lenora Wilson, THS: Dr. Alan & Rita M. Brown Memorial and Richie's Alliance
• Mckenzie Yazan, THS: Shay Barnes Starnes Memorial
Noah Ziglar, HEC: SECU People Helping People and Tommy E. Davis Memorial