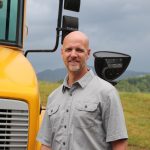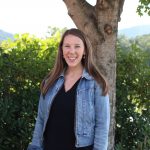 Haywood County Schools began the school year with two new leaders in administrative positions.
Karley Wells came on board as Riverbend Elementary School's principal after Jill Chamber's retirement last spring.
Growing up attending Haywood County Schools, Wells never dreamed of working in education.
"My mother was a teacher at Bethel Elementary School, and for years my teachers would tell my parents that I was going to be a teacher," Wells said with a laugh. "I, on the other hand, wanted to be anything but a teacher, since that was what was expected from me."
Wells quickly changed her mind after enrolling in the teacher cadet course while she was a student at Pisgah High School. She attended Appalachian State University (ASU) where she earned a bachelor's degree in elementary education.
Upon college graduation, Wells returned to Haywood County as a fifth-grade teacher at Clyde Elementary School. While teaching, she took online courses through ASU to earn her master's degree in school administration.
Wells became an assistant principal at Pisgah High School in 2019 where she reconnected with former Clyde students and gained leadership experience.
"I had no intentions of leaving my Assistant Principal job at Pisgah anytime soon," Wells said. "But then the perfect opportunity of applying for the principal position at Riverbend arose."
Although it is the smallest elementary school in the county with close to 200 students, Riverbend Elementary School is one of the strongest performing schools in the state. Riverbend has twice been named a National Blue Ribbon school, an honor based on student performance on state assessments.
Wells intends to continue the reputation that Riverbend has earned.
"Riverbend continues to perform to such a high caliber because of the sense of urgency that comes with every day here at school," Wells explained. "Our goal at Riverbend is to be the best for our students every day."
Just a few days after the start of the school year, Haywood County Schools' new Transportation Director Stephen Sharpe was faced with a flood.
Impassable roads and collapsed bridges made getting students home a challenge for Sharpe and his staff.
"Our staff worked tirelessly to ensure the safety of students and drivers," Sharpe explained. "The mechanics were all out in the pouring rain walking to stranded buses and driving roads to make sure the paths were clear."
Sharpe and his team had little time to react to the quickly rising flood waters. He credits his employees and coworkers with keeping students safe.
"Carrol Harkins, one of our drivers for North Canton Elementary, made an awesome decision to not cross a bridge that was quickly overtaken by water," Sharpe said. "School administrators Amanda Watson, Shawn Paris, and Jill Mann went above and beyond to get students home and stay with students to ensure their safety."
Sharpe hopes he does not have to face any other catastrophic weather any time soon, but he says his staff is prepared to always get students home safely.
Sharpe was hired as the school district's transportation director after working 10 years as Clyde Elementary School's physical education (PE) teacher.
Since 2003, Sharpe has worked with Haywood County Schools. First as a football and baseball coach at Bethel Middle School, then later as PE teacher at Clyde Elementary.
Like Wells, Sharpe is also a native of Haywood County and former Haywood County Schools student. He holds his B.S. in Sociology from Western Carolina University and received his N.C. teaching license in Health and Physical Education.
As transportation director, Sharpe's first priority is the safety of the school system's students, drivers, and mechanics. His duties include directing, developing, and implementing overall operations of the transportation network including safety, compliance, equipment, and staff.
Sharpe aims to continue keeping safety the top priority of the transportation department.
"I want to further increase the relationships between bus drivers, mechanics, and administrators, as well as our community," Sharpe explained. "I also hope that the community appreciates the importance and amazing staff we have in our transportation department."