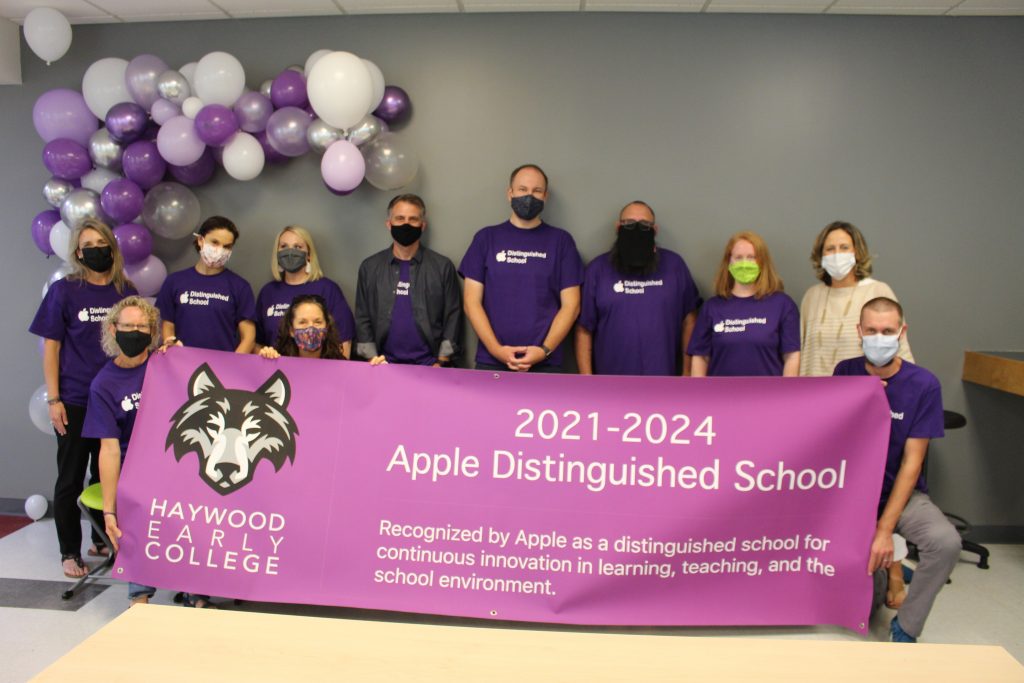 Earlier this month at a school-wide celebration, Haywood Early College was recognized as an Apple Distinguished School.
Haywood Early College is now part of a growing group of 500 plus schools across 32 countries to earn the honor. Haywood Early College is the only school in the state that was recognized this year, joining three other N.C. schools that have previously earned the distinction.
According to Apple's website, "Apple Distinguished Schools are centers of leadership and educational excellence that demonstrate Apple's vision for learning with technology – and we believe some of the most innovative schools in the world. Apple Distinguished School leaders, faculty, and the extended community have a clear vision for how their technology-rich environments support learning goals."
Apple visited Haywood Early College in 2019 as the school began to explore ways to use technology in the classroom. It was after that visit that the school received an invitation to apply for the award.
"Our faculty took off with this initiative, and we really gained a lot of ground quickly," Haywood Early College Principal Lori Fox said.
Part of the application process included all teaching faculty become Apple Teacher certified. Each student also has an Apple iPad that is pre-loaded with apps to create an efficient system of learning inside and outside the classroom.
As an Apple Distinguished School, Haywood Early College faculty will have access to a plethora of professional development opportunities.
This month, Fox will attend a meeting with leaders from Apple Distinguished Schools around the world. In addition, teachers can attend an Opportunities to Accelerate Learning Instructional Summit, which will focus on differentiated instruction, building literacy skills, and increasing student engagement with creativity.
Apple also offers teachers 60-minute virtual sessions multiple times a week. September topics range from interactive timelines to visual mathematics to exploring elements of learning.
"The networking opportunities are the most exciting part of the award to me," Ryan Brumfield, Haywood Early College math teacher said. "We will have the chance to bump elbows with similar schools that teach and learn the way we do."
Haywood Early College is one of the smallest schools in the district with just 195 students. Since Fox became principal in 2017, the academically rigorous school has cultivated a technology-focused, student-driven learning environment.
"When we envisioned and implemented the Apple technology initiative, that revolutionized learning for our teachers and students," Fox said. "To nurture innovative world-changers, our students must be fully invested and engaged in learning."
Fox and her staff encourage students to explore classroom content in unconventional ways. Students have been known to creatively present information to their classmates in the form of movies or books.
"Students are able to create and share information and knowledge the way they want," Brumfield explained. "They have the opportunity and freedom to express what they've learned their way."
Reflective of the school's emphasis on innovation, students build traditional reading, writing, and problem-solving skills in fresh ways for topics that they choose using whatever tools work best for their needs.
"I like being able to read our books on the iPads because I can take notes and highlight on the pages without destroying a physical book," Howard Wiseman, a senior, said. "We're not boxed in by paper materials here."
As a result of the school's technology initiative, Haywood Early College has risen to new heights academically by increasing every accountability model measure and exceeding growth each year. The school tied for first across the state in all K-12 schools for overall proficiency last school year.
"That score is a testament to the hard work of our faculty and students," Fox said. "We're excited with these results, but I can tell you for our faculty, our fulfillment comes from the journey of growing our students and the day in and day out of doing school."