The Haywood County Schools Foundation recognized Canton Middle School teacher Amy Tiller and Pisgah High School teacher Tim Shephard with Excellence in Education awards for the month of February.
The Excellence in Education program recognizes teachers from Haywood County Schools who exemplify a commitment to innovative teaching practices and show dedication to student success. The program is sponsored by Jack Bishop of Edward Jones and the Haywood County Schools Foundation (HCSF).
"I'm amazed at the great teachers that are in Haywood County Schools' classrooms," Bishop said. "This gift is just a small way that we can recognize and thank teachers for the tremendous job they do in preparing our children for success."
Each month, teachers from the 15 Haywood County Schools are recognized with an Excellence in Education award. Award winners are presented with a certificate and a $100 check sponsored by Bishop.
"Teachers like Ms. Tiller and Mr. Shepard are bringing a positive influence into the classroom," Haywood County Schools Foundation Executive Director Jenny Wood Valliere said. "They truly care about their students and are a big part of Haywood County Schools' success."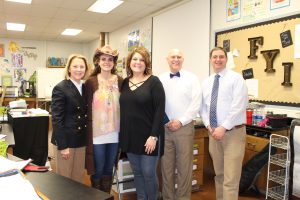 AMY TILLER
For 14 years, Amy Tiller has been teaching for Haywood County Schools. She has taught at Tuscola, Pisgah, Clyde Elementary, Waynesville Middle, and now at Canton Middle.
Tiller invites her students to ask questions and be active in the classroom while she teaches subjects like meteorology, physics, cellular biology, human anatomy, genetics, and microscopic life.
"My favorite part of teaching is the students, of course, because I love them and want to see them succeed in the classroom and in life," Tiller said with a smile. "Another thing that makes teaching so much fun is the creative freedom I have when planning and executing lessons. No two days are ever alike."
Tiller said her ultimate goal as a seventh-grade teacher is to help her students learn the content required by the state while also becoming persevering problem solvers who are passionate about the world around them.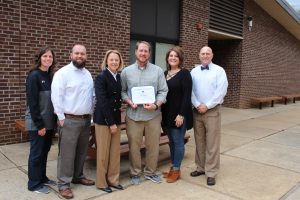 TIM SHEPARD
Pisgah High School teacher Tim Shepard is well known for developing hands-on lesson plans for his students.
Shepard teaches earth and environment science, as well as physical science. His students can often be found outside studying chemical weathering or in the lab creating their own chemical reactions in test tubes.
This is Shepard's 16th year teaching for Haywood County Schools. He began his career at Waynesville Middle School before going to Canton Middle School where he taught for 13 years. He has been at Pisgah for the past three years.
"I enjoy being with my students and seeing them grow academically and as individuals," Shepard said. "They know that I expect them to grow and learn through the entire semester."