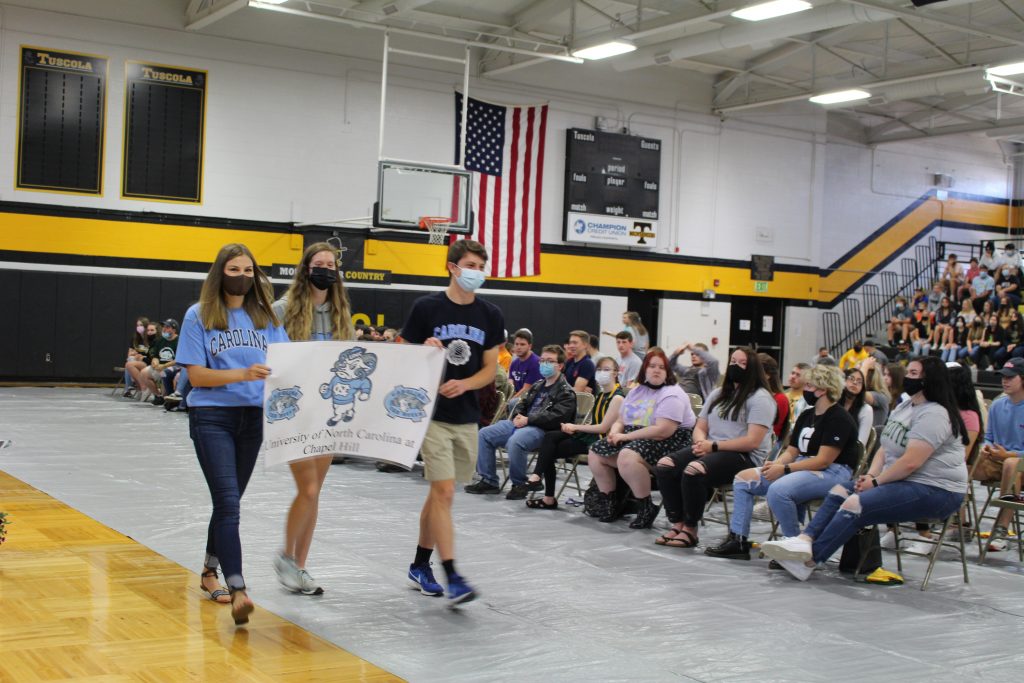 Nearly 200 Tuscola High School seniors proudly wore college t-shirts as they filed into the school's gymnasium to celebrate the close of high school and the beginning of their future.
Although graduation is still a few weeks away, the high school's senior decision day on Friday, May 21 recognized seniors' rite of educational passage as they announced their commitment to attend colleges and universities, as well as enter the workforce and serve in the military.
Tuscola's seniors will soon be scattered across the country from the University of Chicago to Ole Miss to NC State University.
Harper Schwab will attend the University of Chicago this fall to major in computer science and economics.
"My senior year has definitely been memorable being a drum major in the band," Schwab said. "But I'm looking forward to the next chapter in my life at college."
For Lane Cagle, who announced his commitment to the army, the close of senior year means the beginning of a career in service.
"A lot of my family has served in the military, and honestly, I never saw myself doing anything else," Cagle explained. "I'll begin in infantry, but my goal is to become an Army Ranger."
Currently, the school's guidance center has confirmed that five students will be attending trade schools, 59 plan to attend community college, 66 are enrolled in a four-year university, five have enlisted in the military, and 43 will enter the workforce.
The pandemic affected many aspects of the class of 2021's school year, including their post-graduation plans. Counselors reported that the circumstances surrounding COVID forced seniors to be more proactive in seeking career and college planning support.
School counselors have had to communicate with students by Google meet, by phone, by e-mail, and in-person by appointment.
"This group of seniors has a unique maturity that they have developed in response to COVID," THS Counselor Julia Plott said. "They have had to face disappointment and balance a lot of personal responsibility this school year – while all this was tough on them, I have no doubt that it will help them be that much more successful in their future endeavors"